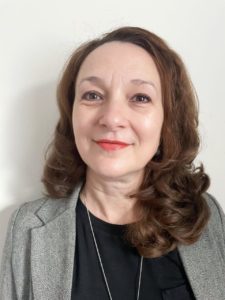 Carmen Camelia Chivoiu, MD, RP, CICAPP Diploma, is a Registered Psychotherapist who has worked with infants, children, adolescents, parents and other caregivers for over 15 years.
Mrs. Chivoiu received a Medical Doctor degree from the Faculty of Medicine, University of Medicine and Farmacy "Iuliu Hatieganu" Cluj-Napoca, Romania in 2004 and immigrated to Canada soon after. Since then, her work focused on interventions for children diagnosed with autism spectrum disorder, attachment-based group and individual interventions for families with infants, on psychotherapeutic approaches for children, adolescents and their parents. She was part of a research project in Infant Psychiatry Program at The Hospital for Sick Children which studied the impact of an attachment-based group intervention on parental reflective functioning. She has provided psychotherapy since 2014 in private practice and in community-based children's mental health agency, helping families from diverse backgrounds to enrich their understanding and support to their children's social and emotional development. She registered with the College of Registered Psychotherapists of Ontario in 2016 and continue to be an active member since then. Mrs. Chivoiu was a professor at Seneca College in 2017-2018 where she taught courses related to early childhood mental health and development in the Infant Mental Health Certificate program and Child Development Program. In 2020 Mrs. Chivoiu graduated the Canadian Institute for Child and Adolescent Psychoanalytic Psychotherapy.
In her psychotherapy work, Mrs. Chivoiu uses a psychodynamic approach in which she integrates psychotherapeutic knowledge and skills from approaches like parent child attachment therapy, play based therapy, intensive behavioral intervention, cognitive behavioral therapy, and dialectical behavioral therapy, with the goal to help children alleviate their symptoms and feel better about themselves, to help them learn how their minds function and build their resilience to cope with mental health and life challenges, as well as to understand how they relate to themselves, their families, friends and the world around them. Mrs. Chivoiu also focuses on helping parents understand their children's emotional and developmental needs and authentically connect with them through increased insight into themselves as parents, as well as through learning parent child relationship strategies for healthier connections.
In her private life Mrs. Chivoiu enjoys time with her husband their two children and their beagle, as well as gardening and reading, and is a passionate learner about nature and its influence on our lives.
email: cchivoiu@thewillowcentre.com
phone: 416-250-1540 x52